Peel Plate Koloniju skaitītājs

Accurate
Increase productivity and reduce human error with accuracy within 10 % of an experienced microbiologist's visual count. The Peel Plate Colony Counter is able to detect and quantify spreader colonies on Peel Plate tests.

Reliable
Calibration Checks safeguard test results by stopping testing when out of specification. Frequency of calibration checks are customized to occur on start-up and after a programmed number of Peel Plate tests have been counted.

Review Result
Raw images, processed images, and test results are all stored as .jpegs. Results can be reviewed by users and administrators as .csv files or exported directly into an SQL (or compatible) database.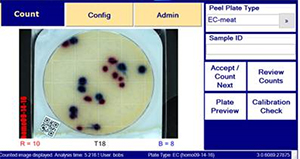 Secure and Customizable
Two different user levels allow for Operators to run tests and review results and Administrators to archive data, set up new Operators, and set up new Peel Plate types.
Learn more about Peel Plate microbial tests.